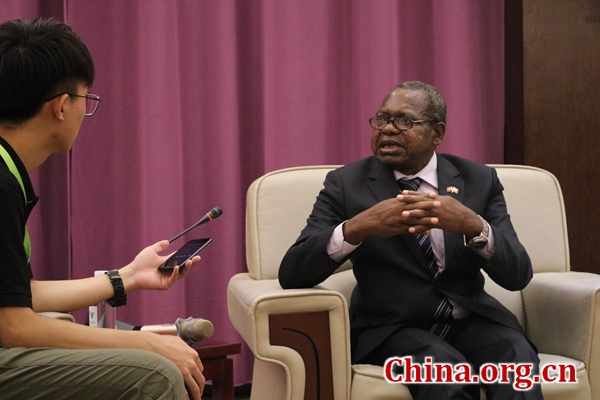 Martin Chedondo, the newly-appointed Zimbabwean ambassador to China, spoke on the cooperation between the two countries regarding the Belt and Road Initiative (BRI) in an interview with China.org.cn during the 2019 China (Quzhou)-Africa Investment and Trade Fair on Friday.
"The key element of the projects under the BRI is about capacity building, which is very different from the so-called Western aid," Chedondo said.
He went on:"These projects develop, and sustain themselves, so the question of debt is null and void."
The envoy stressed:"The BRI is marching toward a shared future with the common vision and responsibilities. We are assured that it is cooperative and will bring mutual benefit for all participants."
Chedondo said the BRI's win-win nature helps reinforce the deep-rooted friendship between China and Africa.
He described the BRI as China's commitment to"teaching African countries to fish. This is the reason why we subscribe to, and appreciate the BRI, as well as the concept of building a community with a shared future for humanity."
He also discussed his expectations for the trade fair.
"The fair provides a platform for communication. Although this is my first time here, I can already see opportunities and dialogues opening up. Both China and Zimbabwe have a lot to offer to each other as well as to our African brothers, and we just need to find a meeting point where we can exchange the benefit of our mutual relationship."
The trade fair was held on September 5-6 in Quzhou city, in southeastern China's Zhejiang province.
From:http://www.china.org.cn/world/2019-09/06/content_75180226.htm