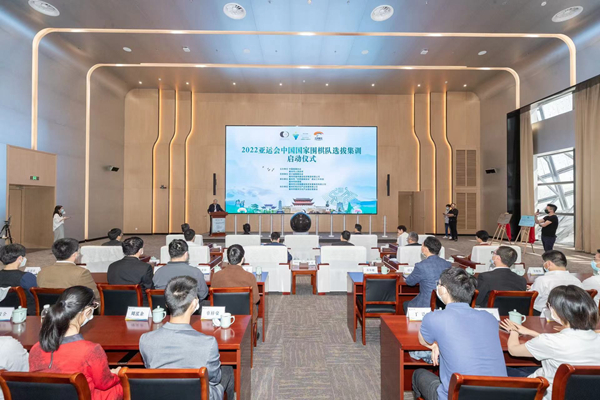 A launch ceremony of the selection and training of the Chinese Weiqi Team for the 19th Asian Games is held on April 12, 2022, in Quzhou, southeastern China's Zhejiang province. [Photo provided to China.org.cn]
A total of 20 male candidates and 14 female candidates will participate in the two-phase selection process, according to Hua Xueming, leader of the Chinese Weiqi Team. After nine single round robins between the male candidates and 14 double round robins between the female candidates in the second phase, six male players and four female players will be selected by April 22 to represent China at the 19th Asian Games Hangzhou 2022.
The Weiqi culture in Quzhou can be traced back to a legend about a woodman called Wang Zhi watching immortals play Weiqi in Lanke Mountain. The legendary story was told as early as the Eastern Jin dynasty (317-420), and the Weiqi manuals, poetries, inscriptions, and articles about the legend have since been integrated into the local culture.
For the past 15 years, Quzhou has hosted several major Weiqi events, including the National Weiqi Championship, the China Weiqi League, and the Weiqi Hometown League. It has built the Quzhou International Weiqi Cultural Exchange Center— the first of its kind in China— which is now the training base for the Chinese national Weiqi team.
While rolling out the first regulation about Weiqi in China this year, the city is stepping up efforts to promote the ancient board game in the world.